avant-match
LIVE
Barbora Strýcová - Karolína Plíšková
Australian Open women - 22 January 2018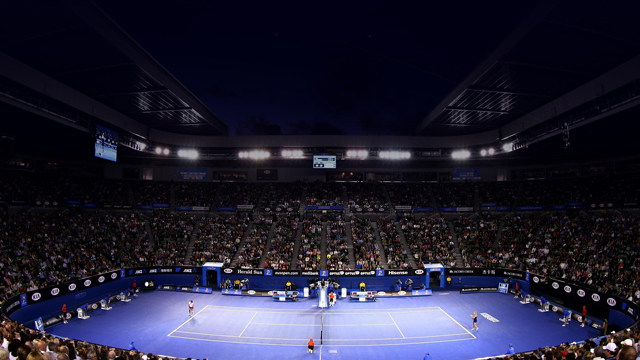 Australian Open – Follow the Tennis match between Barbora Strýcová and Karolína Plíšková live with Eurosport. The match starts at 16:00 on 22 January 2018. Our live coverage lets you follow all the key moments as they happen.
Head-to-head: see historical stats and visit our detailed profiles for Barbora Strýcová vs Karolína Plíšková. Get all the latest on Tennis: fixtures, results and tables.
STRYCOVA 7-6 3-6 2-6 PLISKOVA
That's it! For the second year running, Karolina Pliskova is in the quarter-finals of the Australian Open after a three-set win over fellow Czech Barbora Strycova.
She had to battle but she clinches it on her third match point after a typically gutsy game from Strychova.
STRYCOVA 7-6 3-6 2-5 PLISKOVA
Yells from both women during that game but it's Pliskova who is screaming in delight - good serving as she moves a game away from the quarterfinal.
STRYCOVA 7-6 3-6 2-4 PLISKOVA
Strycova is not going down without a fight and she gets to 40-15, only to succomb to Pliskova's superb hitting again as the game goes to deuce. Strycova shows some first-set form to win the next two points, take the game and keep this match alive...
STRYCOVA 7-6 3-6 1-4 PLISKOVA
Yep, Pliskova is cleaning up now. Her groundstrokes are so clean and powerful, Strycova has little chance and she is stuggling to keep the pace. A long backhand leaves Pliskova just two games from the quarterfinal.
STRYCOVA 7-6 3-6 1-3 PLISKOVA
Pliskova in total control as she races onto three BPs with some ferocious hitting. Strycova saves two but then fires a forehand into the net and lets out a high pitch 'Naaaaaaaa', which sounds more like a sheep than a human. Frustration.
STRYCOVA 7-6 3-6 1-2 PLISKOVA
After going ahead in this decider, Strycova has struggled and Pliskova completes a dominant service game to break to move ahead.
STRYCOVA 7-6 3-6 1-1 PLISKOVA
Pliskova rises to the challenge and breaks back immediately, clinching the game with a punchy front-foot backhand. Both women are working hard to motivate themselves out there as it's past 1am now in Melbourne.
STRYCOVA 7-6 3-6 1-0 PLISKOVA
Well, that could be significant. For only the second time in the match, Strycova breaks Pliskova after a gruelling game. She had to dig deep there but she can get a foothold in this decider with a hold next...
STRYCOVA 7-6 3-6 PLISKOVA
After nearly two hours, we're heading into set number three after Pliskova clinches a second break. She seals by game by firing a thumping forehand return across the court, leaving Strycova on her knees. An understated first pump from the world no.6.
STRYCOVA 7-6 3-5 PLISKOVA
Strycova could look back on that game with regrets, you imagine.
Pliskova begins it with a towering ace -- her fourth of the match -- but she's starting to fray and three errors hand Strycova a BP. Pliskova picks herself up though and clinches the game with an inch-perfect forehand volley. Strycova will serve to stay in the match.
STRYCOVA 7-6 3-4 PLISKOVA
Strycova still very competitive in this second set, as she holds to move within a game of Pliskova. She is edging back. Don't rule out a straight sets victory just yet...
STRYCOVA 7-6 2-4 PLISKOVA
If Pliskova appeared to be closing in on this second set, then Strycova is not going down without a fight. She is still flying all over the court and she brings it back to 2-4 with an impressive break.
STRYCOVA 7-6 1-2 PLISKOVA
The more experienced Czech gets her reward for scrapping by getting on the board in this third set, courtesy of another relentlessly-accurate service game. It helps her to 40-0 and, although Pliskova threatens to rally, the game is clinched when she misses a smash after an exchange of lobs.
STRYCOVA 7-6 0-2 PLISKOVA
A high pitch scream and a slap of the racquet on the court tells you that Strycova has just missed another volley, racing into the net to send a forehand long and concede the game. She's giving everything still but Pliskova has consolidated that early break to lead 2-0 in this second set.
STRYCOVA 7-6 0-1 PLISKOVA
Six out of six first serves in for Strycova, who is still serving so well, but Pliskova's return game is too good, and she breaks at the start of this second set.
STRYCOVA 6-7(5) PLISKOVA
At 5-4, Strycova has two serves to clinch the first set. Pliskova fires the first into the net to set-up two SPs and, after saving the first, the world no.6 sends a backhand into the net. Strycova takes the first set!
She's playing as well as she ever has at Melbourne out there and her rival has work to do.
TIE BREAK: STRYCOVA 6-6 (4-2) PLISKOVA
A huge roar from Strycova as she takes a 2-1 lead before getting a tremendous slice of luck as a ball ricochets off the tape and flies over an advancing Pliskova's head. Strycova raises her arm in apology.
The pair then exchange powerful points, leaving Strycova 4-2 up in the breaker.
STRYCOVA 6-6 PLISKOVA
For the second straight game, Strycova impressively holds to love when she needed to -- and we're into a breaker.
The Czechs have played one tie-break before, won 9-7 by Strycova in Birmingham in 2016.
STRYCOVA 5-6 PLISKOVA
Pressure back on Strycova, who will serve to stay in the set for a second time. Pliskova glides around the court, controlling the rallies, to hold.
STRYCOVA 5-5 PLISKOVA
No problems for Strycova, who completes her easiest service game so far to love, helped by a couple of aces. Level again!
STRYCOVA 4-5 PLISKOVA
Pliskova is in trouble at a BP down but she digs herself out and nudges in front again, firing a big serve past Strycova to clinch the game.
Strycova will now serve to stay in the first set.
STRYCOVA 4-4 PLISKOVA
A tense battle, which is still with serve after eight games. Not much separating the two of them so far, with Strycova having saved four of four BPs and Pliskova saving one of one.
STRYCOVA 3-3 PLISKOVA
Strycova thinks about giving the net a kick after charging in to meet a dropping ball but mis-hitting her volley.
It doesn't matter, though, as a poor return from Pliskova takes the game to 40-30 and the veteran holds to keep the set on serve.
STRYCOVA 2-3 PLISKOVA
A solid hold for Pliskova, who seals the game after an exchange of punchy volleys at the net. There's certainly an extra spice to this match but it's competitive so far.
STRYCOVA 2-2 PLISKOVA
Quite the battle from Strycova, who is under the cosh for much of that game but manages to dig out a crucial hold to keep the first set on serve.
STRYCOVA 1-2 PLISKOVA
With serve so far and the clash of styles is already evident. Big hitting from Pliskova, while her experienced opponent is trying to create angles all the time.
STRYCOVA 0-1 PLISKOVA
Well, there's some aggression from the off! Pliskova has an advantage but Strycova brings it back to deuce with a couple of ferocious body shots.
But Pliskova fights back, displaying her undoubted skill by clinching the game with an inch-perfect volley that lands on the baseline.
Here we go...
Next up on Laver it's the all-Czech contest between Barbora Strycova and Karolina Pliskova, who used to be good friends but now, apparently, do not get along.
This could be tasty.
World No.6 Kliskova will serve first.