avant-match
LIVE
Richard Gasquet - Roger Federer
Australian Open men - 20 January 2018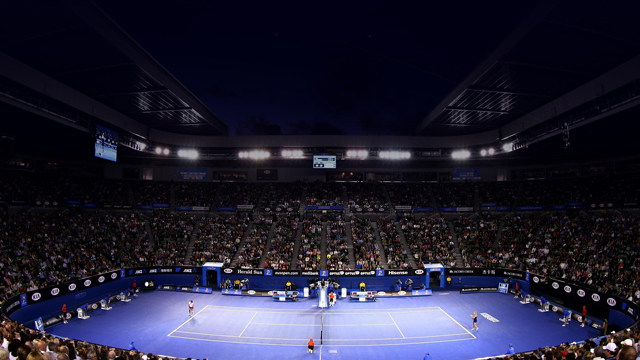 Australian Open – Follow the Tennis match between Richard Gasquet and Roger Federer live with Eurosport. The match starts at 16:00 on 20 January 2018. Our live coverage lets you follow all the key moments as they happen.
Head-to-head: see historical stats and visit our detailed profiles for Richard Gasquet vs Roger Federer. Get all the latest on Tennis: fixtures, results and tables.
GASQUET 2-6 5-7 4-6 FEDERER: Lots of exchanged backhands, but eventually Federer takes his match point, wrapping this up in less than two hours.
GASQUET 2-6 5-7 4-5 FEDERER: Straightforward service game for Federer, who'll want to truncate this match as best he can now.
GASQUET 2-6 5-7 4-4 FEDERER: Gasquet is pelting these serves down Federer's throat now. Powerful.
GASQUET 2-6 5-7 3-4 FEDERER: First break for Gasquet, who takes advantage of a Federer who looks like he eased back just a bit.
GASQUET 2-6 5-7 2-4 FEDERER: Much improved service game from Gasquet, tempting Federer into errors.
GASQUET 2-6 5-7 1-4 FEDERER: There's a kind of festival atmosphere in the stands now. They did spend some time urging Gasquet on so they could enjoy more of this match, but looks like that's not had much effect, so instead, there's singing and general merriment.
GASQUET 2-6 5-7 1-3 FEDERER: Gasquet stares down Federer and gets on the board in this third set.
GASQUET 2-6 5-7 0-3 FEDERER: A consolidation of serve from Federer, who's put his foot to the floor in this third.
GASQUET 2-6 5-7 0-2 FEDERER: Early break for Roger Federer, and the camera pans to an applauding Rod Laver.
GASQUET 2-6 5-7 0-1 FEDERER: Gasquet takes a break off court, and when he returns it's back to the grind of facing the Federer serve.
GASQUET 2-6 5-7 FEDERER: Gasquet challenges on set point, but Federer is already over at his chair, revelling in his two-set lead.
GASQUET 2-6 5-6 FEDERER: Right, so now Gasquet has to serve to stay in this second set. At the moment you'd expect a tie-break is imminent. Wouldn't you?
GASQUET 2-6 5-5 FEDERER: This is good serving from Richard Gasquet, who has worked out how to get the ball past Federer at the other end.
GASQUET 2-6 4-5 FEDERER: Gasquet is much more in this set than he was in the first, but there's nothing quite there that suggests he might break the Federer serve.
GASQUET 2-6 4-4 FEDERER: Federer-esque volleying from Gasquet, a double fault, and now HawkEye is back as well. It's all happening.
GASQUET 2-6 3-4 FEDERER: We have a bit of kerfuffle here as HawkEye fails as Gasquet is slightly riled.
GASQUET 2-6 3-3 FEDERER: Federer looks like he's threatening to break, but Gasquet reasserts himself.
GASQUET 2-6 2-3 FEDERER: Lovely volleying from Roger Federer. He takes a seat and a sip of water.
GASQUET 2-6 2-2 FEDERER: Levelling up for Gasquet, who's looking somewhat hotter than cool Federer.
GASQUET 2-6 1-2 FEDERER: Ever unruffled, Federer mops his brow briefly with a towel. He's in control.
GASQUET 2-6 1-1 FEDERER: The crowd are getting behind Gasquet, who holds his serve to draw level in the second.
GASQUET 2-6 0-1 FEDERER: Strong start to the second from the Swiss.
GASQUET 2-6 FEDERER: Lovely one-handed backhand from Roger Federer, who's giving Gasquet something to think about in this first set. Double fault from the Frenchman means the game is over - and we're 27 minutes in.
GASQUET 2-5 FEDERER: Some swift, deft work from Gasquet at the net, but again he falls short. Federer's closing in on the first set already.
GASQUET 2-4 FEDERER: Punchy service game from Gasquet, using spin to good effect.
GASQUET 1-4 FEDERER: Gasquet's shot-making really is a thing of beauty at times, but despite the aesthetics there isn't anything there to break through.
GASQUET 1-3 FEDERER: Early break for the Swiss.
GASQUET 1-2 FEDERER: A bit more attack from Gasquet on the Federer serve, but not enough to really threaten.
GASQUET 1-1 FEDERER: Hmm, but also a love hold for Richard Gasquet. Maybe it won't be the Federer walkover many were predicting.
GASQUET 0-1 FEDERER: A love hold for Federer, in sixty seconds. Right, good start.
Roger Federer and Richard Gasquet are just about ready to go.