avant-match
LIVE
Rafael Nadal - Víctor Estrella
Australian Open men - 15 January 2018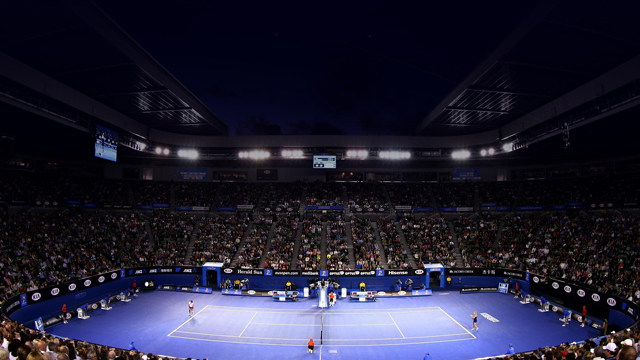 Australian Open – Follow the Tennis match between Rafael Nadal and Víctor Estrella live with Eurosport. The match starts at 16:00 on 15 January 2018. Our live coverage lets you follow all the key moments as they happen.
Head-to-head: see historical stats and visit our detailed profiles for Rafael Nadal vs Víctor Estrella. Get all the latest on Tennis: fixtures, results and tables.
So that's that from here, but stay with me for Tsonga-King and Gavrilova-Falconi.
So Nadal applauds Estrella Burgos off, following an embrace - he really was just chuffed to be there - and will meet Leonardo Mayer next. That will not be so easy, but you know what? I fancy him nonetheless.
Nadal 6-0 6-1 6-1 Estrella Burgos
Two service winners get Nadal to 30-0, then I guess another, though Estrella Burgos' return was tame to the point of shame. And then he goes long with a backhand off a second serve, and there we go! Excellent performance from Nadal, but Estrella Burgos froze, if we're honest.
Nadal 6-0 6-1 5-1 Estrella Burgos
Estrella Burgos is making Nadal run, good work on the forehand getting him to 30-0 and a service winner giving him three game points. But Nadal hauls himself back into the game ... only for a service winner and a lovely volley into the corner to get Estrella Burgos on the board in this set. Nadal will now serve for it, and the match.
Nadal 6-0 6-1 5-0 Estrella Burgos
An hour and 28 minutes gone, and Estrella Burgos will shortly serve to stay in the match. Nadal has been excellent today, but his opponent can do much better than this; he just hasn't been able to find any consistency, and looks slightly fazed by his august opponent. As you might.
Nadal 6-0 6-1 4-0 Estrella Burgos
Eyes down for Estrella Burgos' latest go at staving off a bagel. He manages to achieve deuce on his latest service game at which point my coverage dropped out; it returned to see that Nadal had won yet another game.
Nadal 6-0 6-1 2-0 Estrella Burgos
Well that didn't take long. Nadal has broken at the first opportunity, and in about 15 minutes will be relaxing in the locker room.
Nadal 6-0 6-1 Estrella Burgos
Well that didn't last long. Nadal quickly rights the pervious wrong perpetrated against him, and now leads by two sets to love. I really fancy him to win this one.
Nadal 6-0 5-1 Estrella Burgos
Estrella Burgos gets to 15-30, and then at 30-all a wild forehand gives him his first break point! He duly cedes it with a tame backhand into the net, but refuses to give in. With Nadal dominating a rally at deuce, he retrieves a lob; in fairness a drive through the ball would've given him no chance - and manages to win the point. But he can't win the next ... but conjures a fantastic backhand pass for yet another break point! And guess what follows: slice serve out wide, clean-up forehand. Ah. Then another big forehand sets up an overhead, which sets up sets point ... which Nadal wastes! He opened the court nicely, then went wide with a forehand for absolutely no reason! He follows it with a double fault too, but Nadal saves the break again - Estrella Burgos looks bushed here - but when Nadal nets a backhand, he's in again! AND THIS TIME HE GETS IT! Two great backhands onto the lines, then a clean-up and he punches the air like he's won the competition!
Nadal 6-0 5-0 Estrella Burgos
Nadal has started coming in, showing off the full range of his frankly revolting genius. And on break point, Estrella Burgos floats over a nondescript slice, Nadal punishes it back, and the return forehand is long. Oh dear.
Nadal 6-0 4-0 Estrella Burgos
This is an absolute hiding now, and it's hard to see how that changes. In commentary, they're already onto discussing who's closest to winning their first Slam, i.e. a player not Nadal, Federer, Djokovic, Murray or Wawrinka. Mats reckons it was Raonic, now it's Goffin or Dimitrov, but neither is close. So he settles on Kyrgios, who has big-match temperament, serve and x-factor. The question is whether he can play well for two weeks, but maybe he doesn't have to - if he gets by easily in the first week, he can then turn it up in the second.
Nadal 6-0 3-0 Estrella Burgos
Oh dear. Estrella Burgos goes long with a tentative backhand slice, and he's going to be two sets down soon enough. In other news:
Nadal 6-0 1-0 Estrella Burgos
Estrella Burgos is hitting a decent shot here and there, but is really struggling to put it together through a point never mind a game. He goes long on the backhand, and that gives Nadal a break in the first game of this second set.
Nadal 6-0 Estrella Burgos
Estrella Burgos tic tac toes Nadal with a drop-shot, a lob and a winner. The crowd are happy, and they'll be dancing in the streets of the Dominican republic or something.
Nadal 6-0 Estrella Burgos
Nadal finds a lovely angle on the forehand, a topspinner off the baseline clipping the sideline and giving him the first set in 23 minutes. Estrella Burgos is not long for this competition.
Nadal 5-1 Estrella Burgos
Estrella Burgos gets to 30-15 and a booming Nadal forehand is called in, but was out; he serves out, and the crowd patronise him with whoopin' and hollerin'.
Nadal 5-0 Estrella Burgos
Straightforward hold for Nadal, and Estrella Burgos is now serving to avoid a bagel. Good luck mate.
Nadal 4-0 Estrella Burgos
Nadal has psyched Estrella Burgos here. Serving on break point, he looked at him three times before playing, and shonuff ended up losing the point. So far, Uncle Toni is not being missed. And elsewhere, Yūichi Sugita has knocked out Jack Sock, the number 8 seed.
Nadal 2-0 Estrella Burgos
As one might have guessed, Nadal has broken. Estrella Burgos hung in there until 30, but that was all he was getting.
Nadal 1-0 Estrella Burgos
Nadal is wearing an absolutely atrocious rig of grey trainers with pink trim, pink shorts, grey vest, pink sweatbands and pink headband. Mandatory default for me. Anyway, he wins a love game, obviously.
Apparently Nadal looked pretty nifty in a practice match.Who could possibly have guessed?
Breaking news: at the players' meeting, Novak Djokovic asked all non-players to leave, then suggested forming a new union to get more money, given the ATP shouldn't represent players and tournaments. Doesn't sound so bad, except he's claiming that the women are effectively stealing from the men and should earn less. He suggested boycotting next year's Australian Open.
Marin Cilic has beaten Vasek Pospisil in four tough sets.
It's almost time for Rafa. He's playing Victor Estrella Burgos, and hasn't played a single warm-up match. When that's been the case, he's never gone on to win a Slam.