avant-match
LIVE
Rafael Nadal - Damir Džumhur
Australian Open men - 19 January 2018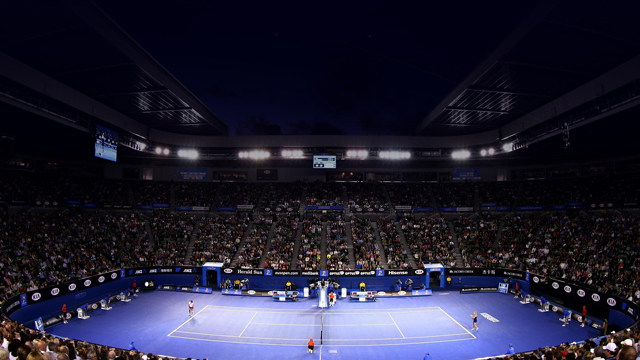 Australian Open – Follow the Tennis match between Rafael Nadal and Damir Džumhur live with Eurosport. The match starts at 16:00 on 19 January 2018. Our live coverage lets you follow all the key moments as they happen.
Head-to-head: see historical stats and visit our detailed profiles for Rafael Nadal vs Damir Džumhur. Get all the latest on Tennis: fixtures, results and tables.
GAME, SET AND MATCH! - NADAL 6-1 6-3 6-1 DZUMHUR. Nadal serves out from deuce, firing down an ace on his third match point to win in one hour and 50 minutes. The Spaniard was red-hot at the start and although Dzumhur improved and showed glimpses of his shot-making ability, the Spaniard never looked in any real trouble. He will meet Argentina's Diego Schwartzman next.
BREAK! - NADAL 6-1 6-3 5-1 DZUMHUR. It's another break and the fat lady is warming up those vocal cords ready to perform Nadal's victory song.
NADAL 6-1 6-3 4-1 DZUMHUR. A 21st winner of the match highlight how good Damir can be. Sadly for him, Nadal is just relentless and moves another step closer to victory with a hold to 30.
NADAL 6-1 6-3 3-1 DZUMHUR. Damir gets on the board - but he does it the hard way. Nadal fires a tweener long to fall 40-0 down. The Spaniard battles back and earns another break point that the No.28 seed saves with a sublime topspin lob. It proves to be the turning point as another delicious volley sets up the Bosnian to belatedly register the game.
NADAL 6-1 6-3 3-0 DZUMHUR. Nadal consolidates with a hold to 30. He's closing in on the finish line.
BREAK! - NADAL 6-1 6-3 2-0 DZUMHUR. Nadal seemingly happy to attack the serve rather than deliver it right now. He piles on the pressure and has three break points saved before a wonderful pick-up at the net sees him outfox the Bosnian.
NADAL 6-1 6-3 1-0 DZUMHUR. It's heavy going for the world No.1. He endures a gruelling opening service game to Set 3, saving break point and battling through a fifth deuce before finally making it count.
SET! - NADAL 6-1 6-3 DZUMHUR. Rafa has round four firmly in his sights. A crosscourt missile on double set point proves too good for Damir to get back over the net. The shot had the crowd gasping and was a fine way to clinch another break and the set.
NADAL 6-1 5-3 DZUMHUR. Rafa being made to work much harder for it now. He edges the game to 30 to move within one of a two-set lead.
NADAL 6-1 4-3 DZUMHUR. That's a rarity for Damir today. He finds some rhythm on serve and claims a love hold. That's give him another lift. He's been much more competitive in this set.
NADAL 6-1 4-2 DZUMHUR. Nadal backs it up with a solid hold to 15. He's back on track!
BREAK! - NADAL 6-1 3-2 DZUMHUR. Like a red rag to a bull.... Nadal clearly didn't take kindly to being broken. He comes out all guns blazing and immediately regains the advantage as Dzumhur can only block his vicious drive long.
BREAK! - NADAL 6-1 2-2 DZUMHUR. Talk about tales of the unexpected! Rafa suddenly finds himself battling on serve. Dzumhur has found a weapon to hurt the Spaniard and begins to unleash the backhand. He forces deuce and earns his first BP of the match. Rafa charges to the net but an attempted pass proves too hot to handle and he can only block into the net. We are level in Set 2!
NADAL 6-1 2-1 DZUMHUR. Some respite for Damir. He gets on the board much earlier this time. Can he make this mildly competitive or are the crowd going to be left wanting more from this Mallorcan-Masterclass.
NADAL 6-1 2-0 DZUMHUR. You know the drill by now. Rafa breaks and then backs it up with a ruthless service game. Let's hope the spectators queuing for refreshments are aware of the situation. They miss half of the match at this rate...
BREAK! - NADAL 6-1 1-0 DZUMHUR. Some strong resistance from Dzumhur as he battles hard to fend off three set points. Nadal keeps battering away at him though and makes it count on the fourth opportunity. New set, same old story.
SET! - NADAL 6-1 DZUMHUR. A bull-dozer of a forehand sees Rafa serve it out to 15 and secure the breadstick in just 22 minutes. Awesome.
NADAL 5-1 DZUMHUR. Big cheers from the crowd as Dzumhur gets on the board. It looks like a bagel as he falls a set point down, but finds a forehand winner on the run - one of the shots of the match so far - to make deuce. It gives him a much needed lift and helps him go on to prolong the set for a few more minutes.
NADAL 5-0 DZUMHUR. Nadal proves he's human with a miscued forehand. He looks annoyed with himself. Ever the perfectionist, he responds from 30-30 to breeze through the next two points to move within a game of the set.
BREAK! - NADAL 4-0 DZUMHUR. This is incredibly one-sided. Nadal is just pelting winners left, right and centre. He earns the double break as Damir fails to win a point on serve. Desperate times for the Bosnian who will have already written off this set.
NADAL 3-0 DZUMHUR. The world No.1 consolidates to love. Dzumhur pretty stunned right now.
BREAK! - NADAL 2-0 DZUMHUR. Wow. Nadal in the zone and it already looks bleak for Damir. Rafa earns double break point, but only needs one opportunity to make it count.
NADAL 1-0 DZUMHUR. Some lovely touches and brutal winners from Rafa as he gets on the board. No sign of a slow start so far today. He looks in the groove.
The players are now running through their pre-match routines on court.
VIDEO: How Nadal reached round three.
VIDEO: Behind the scenes with Corretja - how the Eurosport pundit covered Nadal's 2nd round win.
HEAD-TO-HEAD: This is the second meeting between the players, with Dzumhur having won their only other clash. The Bosnian came out on top in the Miami Masters back in 2016 when Nadal was forced to retire in the third and final set.
Hello and welcome to LIVE updates of the round three encounter between World No.1, Rafael Nadal and Damir Dzumhur of Bosnia and Herzegovina. The players are due on Margaret Court Arena imminently.