avant-match
LIVE
Nick Kyrgios - Viktor Troicki
Australian Open men - 17 January 2018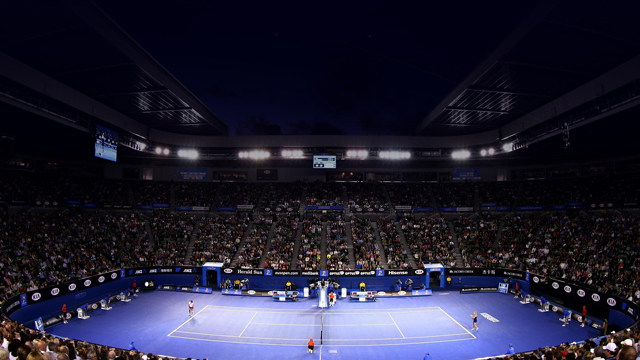 Australian Open – Follow the Tennis match between Nick Kyrgios and Viktor Troicki live with Eurosport. The match starts at 15:45 on 17 January 2018. Our live coverage lets you follow all the key moments as they happen.
Head-to-head: see historical stats and visit our detailed profiles for Nick Kyrgios vs Viktor Troicki. Get all the latest on Tennis: fixtures, results and tables.
So, there we go - come and join me next door for Dimitrov-McDonald, which has been brilliant so far.
Kyrgios 7-5 6-4 7-6 2) Troicki
Troicki hits the umpire in the head amid widespread mirth - that's 5-1 - and then a dismissive forehand gives Kyrgios five matchpoints. He looks to have taken the first with a backhand cross-court, but what a get from Troicki, a stretching volley at his ankles. But it only postpones the inevitable, a backhand cross-court too good, and there we go! Troicki played well tonight, but he had no answer for the all-round game of Kyrgios, who served brilliantly, delivered all the usual off-the-cuff genius, and held it down at key moments.He plays Tsonga next.
Kyrgios 7-5 6-4 6-6 (4-1) Troicki
Minibreak immediately for Kyrgios, but he then goes needlessly long with a backhand after working hard to set it up; Troicki, meanwhile, is getting more returns in than at any time of the match. And he thinks he's about to minibreak at 1-1 after a tremendous volley pick-up ... only for Kyrgios to curve a forehand pass down the line from behind his right buttock! Off the back of it he wins the next two points, and suddenly this is almost done...
Kyrgios 7-5 6-4 6-6 Troicki
Kyrgios gets to 40-15 but then can't sort his feet out and whips a forehand miles wide before glancing a volley just wide - albeit after a very useful backhand from Troicki. Suddenly, he's making an impression on Kyrgios' serve; naturally Kyrgios responds with a daring chop, the rascal, after which Troicki nets a backhand, and we'll now play a breaker.
Kyrgios 7-5 6-4 5-6 Troicki
Kyrgios is blazing and looks to have 30-0, but Troicki challenges and it's in fact 15-all. Then Kyrgios misses a backhand with plenty at which to aim, goes long with another, and one serve-volley later, he'll have to serve to win a tiebreak.
Kyrgios 7-5 6-4 5-5 Troicki
Good start to the game from Troicki, letting a forehand past that drops out, but Kyrgios keeps going to his stronger backhand side and pounds a winner past it, then slings down another ace. Next, a forehand is long - he's not just trying to win but trying to win! - and when a backhand from Troicki clips the top of the net, it might not happen right now! Break point, just the second of the match ... and though he opens the court with a brilliant serve out wide, the clean-up forehand goes long! Well done Viktor Troicki!
Kyrgios 7-5 6-4 5-4 Troicki
Kyrgios finds himself at deuce and the crowd sense victory, but Troicki responds really well, clinching the game with an ace and forcing yerman to serve for the match.
Kyrgios 7-5 6-4 5-3 Troicki
Kyrgios gets to 30-0, then bangs an ace down the T; pick that one out. Then, at 40-15, another ace, and he's still to be broken in the tournament.
Kyrgios 7-5 6-4 4-3 Troicki
An unbelievable shot from Kyrgios - back to the net, in the corner, flipped with vertical racket, head pointing down - gives him 15-30. But Troicki isn't going away, and quickly polishes off the game.
Kyrgios 7-5 6-4 4-2 Troicki
Kyrgios holds to 15, and is looking solid as you like.
Kyrgios 7-5 6-4 3-2 Troicki
Troicki has played well tonight - he's just let himself down at the least opportune moments. Another straightforward hold, for all the good it'll do him.
Kyrgios 7-5 6-4 3-1 Troicki
Kyrgios races through a love consolidation, as it were.
Kyrgios 7-5 6-4 2-1 Troicki
Oh, Victor. After failing to take his opportunity he gives Kyrgios one. A backhand nailed down the line brings up break point, and a forehand into the net establishes the break; I'm not sure this one's got much longer left it, and what a match awaits us in the next round: the winner will meet Jo-Wilfried Tsonga.
Kyrgios 7-5 6-4 1-1 Troicki
Troicki is playing well now and gets to 30-all, at which point a double gives him his frist break point of the match ... Kyrgios serves into the net, but then steers a backhand down the line, on the line. That's confidence, and seconds later the game is over.
Kyrgios 7-5 6-4 0-1 Troicki
Troicki's errors have come at bad times, and at 0-15 he sends down another double, then loses the next point too; three break-points. A net-cord saves one, then Kyrgios nets a backhand, and the third goes with a backhand of Troicki's own. Still Kyrgios earns another and there follows a great rally, both players moving about the court before Troicki bangs a great backhand winner down the line and on the stretch. He quickly clears up the next two points, and that is a monstrous hold.
Kyrgios 7-5 6-4 Troicki
At 15-0 Kyrgios sends down an ace and Troicki doesn't like it, arguing with the umpire and challenging - it's in, says Hawkeye, and a long lob later, that's set-point ... synched with a blazing backhand cross-court. Kyrgios is playing really, really well, and with just enough equaminity.
Kyrgios 7-5 5-4 Troicki
At 30-0 Troicki nips off to sort his laces, which seems like a good trick if you're knackered. He then smacks down an ace, then a service winner, and Kyrgios will have to serve for the set.
Kyrgios 7-5 5-3 Troicki
Kygios responds with a love game of his own, pulverising a brilliant return for 40-0 and then volleying a pass he knew was going out, just because he can. What a player he is.
Kyrgios 7-5 4-3 Troicki
Gosh, Troicki dealt with that in short order. Back they go to their seats following a love a game as you'll ever see.
Kyrgios 7-5 4-2 Troicki
Hyrgios is seeing it, reading Troicki's drop-shot to secure a hold to 15 with a backhand glided - glid? - at the net.
Kyrgios 7-5 3-2 Troicki
Love game for Troicki, who must be rueing those five minutes when he stopped paying attention.
Kyrgios 7-5 3-1 Troicki
Kyrgios was complaining about misbehaviour in the crowd, asking the umpire to make an announcement, and connectedly or not Troicki takes the first two points of his service game. But Kyrgios quickly levels, getting 30-all with a heavily disguised undercut forehand squash shot - Troicki was already moving forward, anticipating the drop-shot. There follows a second serve ace, then a drop-shot, backhand down the line combo ... what a ridiculous talent he is!
Kyrgios 7-5 2-1 Troicki
Troicki has re-found himself, a solid service game won to 15. After it, Kyrgios was complaining to the umpire about something that's not allowed but we've cut to adverts so I can't be sure what.
Kyrgios 7-5 2-0 Troicki
Kyrgios whips a devastating backhand from the back of the court and cross-court which bounces just inside the sideline - what a shot that is to give him 40-15, and Troicki then nets a backhand.
Kyrgios 7-5 1-0 Troicki
Troicki serves another double at 0-15 - that's now five in the match to Kyrgios' zero, But he quickly fights back 30-all, only to net en route to the net, and within seconds is smashing a ball into the stands when another unforced error - a forehand hit long - cedes the break. Temper, temper. Five minutes ago things were going very nicely for him...
Kyrgios 7-5 Troicki
Kyrgios is just serving like a dream, racing to 40-0 and finishing with an ace, his ninth of the set. This is exceedingly impressive stuff: keeping his own game together when Troicki did well before pouncing when it dropped.
Kyrgios 6-5 Troicki
Kygios lands a forehand on the line for 0-15, and then a double-fault gives him a glimmer, and when a first serve goes wide, Kygios steps in ... Troicki nets, and is about to undo all his good work! another fault ... surely not a third double in a row .... no, but Kyrgios leaps into the rally two-foooted and clinches the game with a big backhand cross-court followed by a clean-up forehand. He'll serve for the set in 90 seconds' time!
Kyrgios 5-5 Troicki
Kyrgios is 13/13 on first serve point, and he whams down an ace to keep the record going and get to 15-0. But after playing a nice approach, Troicki sends one back low over the net and he nets a backhand before resolving matters with a seventh ace - only momentarily, because a backhand hit wide makes it 30-all and Troicki only needs two points for the set. They end up at deuce, so along comes yet another ace, before a drop-shot is good enough ... just.
Kyrgios 4-5 Troicki
Kyrgios is able to take a point off Troicki's tame second serve, but it's all he can manage and the game is sealed with a seventh ace. They're right rattling through here, and Kyrgios will now serve to stay in the set.
Kyrgios 4-4 Troicki
Love game for Kyrgios, sealed with a blazing forehand cross-court. Can he make an impression on the Troicki serve?
Kyrgios 3-4 Troicki
Kyrgios gets himself a little chance at 30-15, but botches a drop-shot opportunity by hitting the net. Troicki then goes wide off the backhand with a large chunk of court for to aim, but cleans up thereafter and we're still on serve with only break-points won.
Kyrgios 3-3 Troicki
Kyrgios opens with his fifth ace, but a double fault levels things. He's not arsed, and reels off three points in about two seconds.
Kyrgios 2-3 Troicki
Troicki goes long on the backhand for no reason, giving Kyrgios 15-30. But a strong service quickly restores his advantage, as does another at 30-all. But then another backhand drops long, giving us our first deuce of the evening - Troicki responds with an ace which Kyrgios challenges just because. He then saves game point and they go backwards and forwards for a bit before Troicki's fifth ace sends them back to their seats.
Meanwhile, on Laver, Nadal has beaten Mayer.
Kyrgios 2-2 Troicki
A 211km/h ace gives Kyrgios 30-0, he follows it up with another - his arm is so quick, you can only shudder at the mightiness of the bacon slices he must be able to administer - and after Troicki nabs a point, he delivers his third ace of the game. Serving like this, he's a difficul night for anyone.
Kyrgios 1-2 Troicki
Troicki starts the game with an ace and thumps down further services thereafter to hold to 15. Kyrgos will know now, if he didn't know before, that he's in a match.
Kyrgios 1-1 Troicki
Troicki isn't going to die wondering - he's attacking Kyrgios' serve and works his way to 15-30. But Kygios responds with 173km service winner, then one at 178 - av that! - then a 205 ace. Not bad.
Kyrgios 0-1 Troicki
Right away, Kyrgios earns a break-point, but Troicki saves it with a drop-shot and then hangs in there, serving really well to seal the game.
G'day! Let's have some Kyrgios and Troicki!