avant-match
LIVE
Kevin King - Jo-Wilfried Tsonga
Australian Open men - 15 January 2018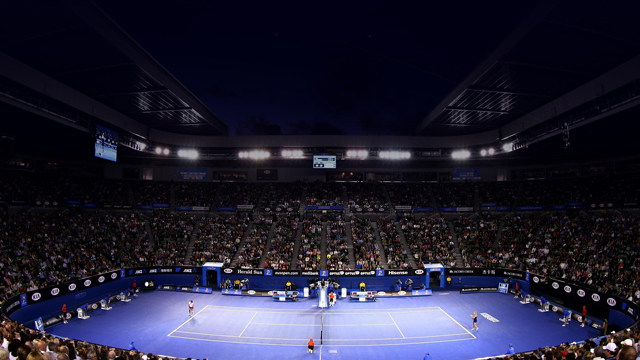 Australian Open – Follow the Tennis match between Kevin King and Jo-Wilfried Tsonga live with Eurosport. The match starts at 16:00 on 15 January 2018. Our live coverage lets you follow all the key moments as they happen.
Head-to-head: see historical stats and visit our detailed profiles for Kevin King vs Jo-Wilfried Tsonga. Get all the latest on Tennis: fixtures, results and tables.
So I guess that us until tomorrow - thanks for your company today, and see youse then!
King is a player. He's got a lot of work to do to be able to compete with the best, of course, but he's got enough to make me think he can hack it on the main tour, certainly if he improves. His serve is good, he isn't scared, and he's been through a lot just to get here. One to keep an eye on.
King 4-6 4-6 1-6 Tsonga
Oh wow! At 15-0, Tsonga sneaks forward a little and out of nowhere flicks groundstroke into a drop shot that is far, far too good for King. He's barely touched it; shot of the day, reckons Mark Petchey,And seconds later, he has two matchpoints ... and he only needs one! King nets a backhand, and Tsonga is through! He'll play Shapovalov next - do not miss that one, because it'll be serious.
King 4-6 4-6 1-5 Tsonga
In classic style, Tsonga loses the first point of the game - that kind of thing, like the break point he threw away just a moment ago, will cost him against a better player. King forces it to deuce, but can get no further, eventually sticking a forehand long. He'll now serve to stay in the competition.
King 4-6 4-6 1-4 Tsonga
A brilliant pass from Tsonga gives him 15-40, but some indecision allows King back in. Still, he then delivers a fine return on the backhand from out wide, lasered cross-court and forcing King to net in return. This is very nearly over.
King 4-6 4-6 1-3 Tsonga
King is looking limited now as Tsonga shows off his versatility, combining power off the ground with touch at the net. At 15-all, he slides in to flick a lovely, dainty winner across the face of the net, then dominates another volley for 40-15. But then busy loving the buzz an error and a double-fault give king deuce ... a service winner out wide quickly restores his joie de vivre, and when King goes wide and long with a backhand return, that your consolidation.
King 4-6 4-6 1-2 Tsonga
Well, it's not in the first game but it is in the third; Tsonga plays a great point, a huge forehand down the line giving him the opportunity to paddle an underarm winner down the line with King stranded at the net. He's four games away from round 2.
King 4-6 4-6 1-1 Tsonga
Tsonga, who was displeased with how he played in that first game, or perhaps with his box telling him to come on as though he wasn't coming on, holds to 15.
King 4-6 4-6 1-0 Tsonga
Well in Kevin King! He holds - how I don't know, as my Sky Go crashed - but for the first time, he's ahead in a set.
King 4-6 4-6 Tsonga
King gets the first point of the game, but an unforced error on the backhand allows Tsonga to draw level. And Tsonga goes on from there, sealing the set with a lovely drop-volley. King has never played in a five-set match, let alone played five sets, but to progress he's going to have to. Can he avoid losing his first service game...
King 4-6 4-5 Tsonga
Tsonga gets to 30-all and has a chance for 30-40 when a good return about the ankles sets him up to come in. But a nothing pass is easily put away on the volley, and King quickly wins the next point to make Tsonga serve for it.
King 4-6 3-5 Tsonga
At 15-all, Tsonga slips on the retreat as King wallops a big backhand, only to use the unusual position to produce a fine volley winner. And it's soon 40-30, at which point a booming ace out wide seals the game. Another big point goes to Tsonga.
King 4-6 3-4 Tsonga
Simple hold for King - there really isn't much between the players - but can he break?
King 4-6 2-4 Tsonga
Tsonga is serving nicely now, and three big ones get him to 40-0. King then fights back to 40-30, but can't compete a backhand pass down the line, hitting the net, and he's running out of chances to save this set.
King 4-6 2-3 Tsonga
King lacks subtlety and creativity, reckons our commentary team, though his serve is pure and the things he does well, he does well. It's plenty to earn him a hold to 15, to stay in touch in this set.
King 4-6 1-3 Tsonga
Easy hold apiece; King will be kicking himself for ceding another early break.
King 4-6 0-2 Tsonga
King gets to 0-40 but Tonsga fights back to deuce and then somehow, with his back parallel to the net, produces a leaping backhand overhead to raise game point. An ace follows, and that's a big difference in this match: the ability to win the big points.
King 4-6 0-1 Tsonga
After playing such a good game for no reward, King is a little lax at the start of the second set, but comes to the next for 30-all only to pick out Tsonga at the net after telegraphing a forehand. And, well, oh dear: King balloons a forehand, and again is behind from the very start of the set. Now, though, he'll know he's capable of getting break back.
King 4-6 Tsonga
Again, King makes Tsonga fight for his points, but can't quite take the chances that he gets, picking out his man at the net after guessing right in pursuit of a volley. That gives Tsonga two set points, but the first is saved with a forehand down the line, which elicits a response into the net ... and the second is saved when a backhand is driven cross-court and wide, for absolutely no reason. No matter: a lovely rally is ended when Tsonga plays a delicious backhand half-volley at the at the net, only for Tsonga to then go wide, and King to force a break point after a murderous forehand down the line! Tsonga saves it, but another superb forehand from King sets up another; this time he sends a backhand into the net. So, Tsonga then sends a monstrous serve out wide and massacres a smash to cement the point, then another good serve helps him clinch the set! But he's in a match here and he knows it - King is playing very nicely indeed.
King 4-5 Tsonga
15-30 down, along comes a swinging lefty serve out to the backhand; ace. A netted return and another ace later, and Tsonga will have to save for it.
King 3-5 Tsonga
So, can King break? He's not had so much a break-point yet, and Tsonga begins this game with an ace. King doesn't hand it to him, though - but he takes it for the loss of two points.
King 3-4 Tsonga
Lovely from King, sending Tsonga out wide to the backhand then chasing back towards the middle; Tsonga, who'd started slipping with that first chase, ends up on his arse at the end of the second. Who'd play a lefty, eh? King holds to 15, and looks pretty damn solid.
King 2-3 Tsonga
Unlike Estrella Burgos, King is here to compete. He looks not unlike Mischa Zverev, and holds comfortably enough.
King 1-3 Tsonga
Tsonga had a pretty decent year last year, but the studio still reckon we've seen the best of him. King, in his first Slam match, is actually competing pretty well, though a break down.
King 1-2 Tsonga
King is on the board, and we now have pictures! Get in!
King 0-2 Tsonga
Tsonga consolidates.
King 0-1 Tsonga
We're away, but for the now I don't have pictures. Tsonga, though, has broken immediately.
So, Kevin King is a qualifier from the US with a degree in mechanical engineering from Georgia Tech. He's struggled back from plenty of evil injuries to get here, so well done him.
Tsonga we all know, and he's seeded 15; once upon a time he was a contender, but it's hard to see him ever getting back to that.
The players should be with us presently.