avant-match
LIVE
Aljaž Bedene - Roger Federer
Australian Open men - 16 January 2018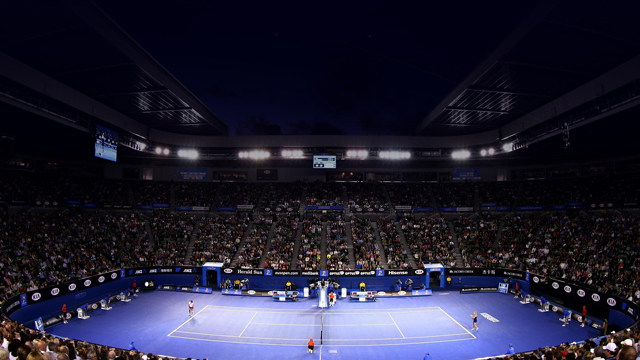 Australian Open – Follow the Tennis match between Aljaž Bedene and Roger Federer live with Eurosport. The match starts at 16:00 on 16 January 2018. Our live coverage lets you follow all the key moments as they happen.
Head-to-head: see historical stats and visit our detailed profiles for Aljaž Bedene vs Roger Federer. Get all the latest on Tennis: fixtures, results and tables.
Right, that's quite enough of that. Bleurgh, barf, yak and gip. See you soon!
Hilariously, he calls McEnroe "MacIntosh" and tells Federer that he's like a gazelle. It is so, so funny.
Oh seriously. McEnroe, doing the post-match interview, has just brought on will Ferrell, renowned tennis expert.
Elsewhere, Radwanska is serving for the match against Pliskova, Thiem is a set and a break up against Pella, and Berdych leads De Minaur by 2-1 and a break.
Bedene 3-6 4-6 3-6 Federer
Bedene is now serving to stay in the match, and within seconds is three match-points down; of course he is. He saves the first, and then Federer flips back an astounding return across the face of the net ... but the service was wide. No matter; a couple of useful backhands and Bedene nets one of his own. An hour 20 is all it's taken for the champion,m the champions of champions, to move on. He'll play Jan-Lennard Struff next. As for Bedene, he gave a good account of himself, and looks to have some improvement in him.
Bedene 3-6 4-6 3-4 Federer
A mishit lob from Federer gives Bedene game point ... ahahahahahahahaha! There follows another forehand winner. But well done Bedene, who seizes on a loose backhand to send one of his own hurtling past a stranded Federer, before cleaning up nicely after a well-directed serve.
Bedene 3-6 4-6 1-3 Federer
Federer consolidates nicely, to 15. He is a ludicrous disgrace.
Bedene 3-6 4-6 1-2 Federer
Bedene is doing his best, but, well. Federer gets himself a break point which Bedene plays well, moving his man about and playing a decent shot to the forehand corner. Except Federer teleports himself right there and glides a scrumptious winner down the line. I think he might win this one.
Bedene 3-6 4-6 Federer
Bedene gets to 15-30, so Federer whams down a serve, right on the outside edge of the T. Then another service winner, and another, and that's the second set.
Bedene 3-6 4-5 Federer
Serving to stay in the set, Bedene's level drops and Federer senses it, pounding a forehand down the line to bring up two set-points. Bedene saves the first with a big serve - and the second, whacking a volley at the net. He really needs to be winning this game, he doesn't want Federer serving first in the third. But there might not be much he can do about it, Federer's forehand earning him another set-point when he nips in on a half-court ball and whips it into the corner. Again, though, Bedene comes up with a big serve, and then chases down a drop-shot; game-point, and another good serve means that Federer will have to serve for it.
Bedene 3-6 3-4 Federer
Bedene is playing better now, and delivers an easy hold of his own. He's got really good hands, and decent power.
Bedene 3-6 2-4 Federer
Federer is racing through the service games. It appears that he is quite good at this tennisball thing.
Bedene 3-6 1-3 Federer
Federer arranges a game-point; Bedene saves it, but some backhand slices open the space for the topspin forehand down the line. Bedene played that point well, but what can you do. And the next one is over quickly, Bedene dropping a ball short; again, it's annihilated by that winsome forehand.
Bedene 3-6 1-2 Federer
Bedene is on the board in set two, but he's having to fight for nearly every point. He's never won a match here, and this is his sixth go at it.
Bedene 3-6 0-1 Federer
In commentary, McEnroe is talking about how beautifully Federer moves, even at his age, and also that last year's final was the best match he's seen since the Wimbledon final of 2008, Federer, for his part, is wearing far cooler versions of pink than the others, and has broken at the first opportunity in the second set - obviously.
Bedene 3-6 Federer
Pictures! At 40-30, Federer massacres a forehand down the line and that's enough to put him one ahead.
Bedene 3-5 Federer
Bedene holds, so Federer now has to serve for the first set.
Bedene 2-5 Federer
All going nicely for the Fed.
Bedene 1-3 Federer
Well, that didn't take long. Federer has broken Bedene, who is now representing Slovenia again. And fiar enough - they have far better ice cream there than we do in the UK.
Bedene 1-2 Federer
Still on serve on Laver. It never occurred to me that old Rod sponsored Sheffield United in the 90s. Good of him.
Bedene 0-1 Federer
I don't yet have pictures of this, but Federer has won the first game on serve.
G'day! Federer and Bedene are warming up...